THP
Sep 20
[video]
[video]
Being a kid at the fair: WHY WOULD YOU LOOK AT THE ANIMALS AND VEGETABLES!? Ughhh I want to go on the rides!!
Being an adult at the fair: They have HOW many cows!? *bee line*. Oh is that a pumpkin as big as my car!? I'm into it.
Today was my Swan Song as marshal of the Guilford Citizens Day Parade. What a wonderful Guilford tradition to have been able to be a part of. My favorite event to come back to Guilford for :)
Sep 19
Dreams do come true! Modern Apizza, never leave me. (at Modern Apizza)
It's fancy Friday y'all
The story of how I don't have Verizon any more, but I do have T-Mobile
I am one of those into the new thing kind of tech people, when it comes to hardware.  I am also an apple person.  And yes, this does mean that I get the new iphone on the day it comes out.  It's shiny and fun and exciting.  I realize all the things there are to make fun of about this, and I'm in for the laugh - I'm slightly ridiculous, but I'm *good* at my specific brand of weird.
Anyway, long story short: this morning at 6AM I was seated outside of the Verizon store in downtown Boston, with a slew of other schmucks as curious and excited as I was - freezing but content in my plans.  An hour passed, then 45 minutes on top of that and a friendly warm voice echoed out.
A number of details poured forth, among them "If you are not eligible for an upgrade, this is not the place you want to be! We can not sell you an iPhone today, you'll have to wait until after the chaos!"  A record scratched in my mind and I looked at him as if he was made of badgers - which is to say with extreme confusion.
Waiting patiently for him to get to me, we had the following exchange:
THP: "Hi!  I'm sorry, you said you couldn't sell phones to people without upgrades today?  I don't have an upgrade but was coming here with the intention of paying retail price for the phone."
Verizon Guy: "Oh, I'm sorry Sir we can't sell it to you at full price today, you can only buy it at the upgrade price, with an upgrade."
THP: "Surely there must be some way for you to take my money in exchange for this device"
VG: "No, I'm sorry, Sir we only have a very limited number of phones today, and there are so many people here so we can only sell them to people with upgrades"
THP: " I am confused. I am here, and I am a person.  And I am a person trying to give your company money.  So… you don't want my money?"
VG: "I'm sorry Sir, we have a limited number of…"
THP: "So there is NO way for me to buy this product from you."
VG: "No, sorry."
THP: "Okay.  You realize T-Mobile *points across street* buys out unfinished contracts, right?"
VG: "I do, Sir."
THP: "Okay. I know this isn't your call, but if you get a chance, tell someone higher up that this why there was a cancellation today."
At which point I walked over to the T-Mobile and was helped by two incredibly friendly salespeople.  Honestly the best possible option.  They paid for my unfinished contract with Verizon, gave me a great price on my phone, gave me a cheaper plan that I had with Verizon on NO contract, and did it all with a smile. Oh, and they, you know- sold me a product.
I guess the moral is: If you sell something, let people buy it.  Especially if they're willing to give you more money.
The day I finally post a full body pic in my briefs on here is the day I'll finally accept how I look

Same though. I totally feel this.

The day I do this is the day the world goes blind. Except for Julianne Moore.
The day I do this is the day I get $2000 of donations to my ALC ride.
http://www.tofighthiv.org/site/TR?px=2208081&fr_id=1770&pg=personal
#noshame
Married life…
Alex offered to stop playing Last of Us, but he's been telling co-workers and friends that he hasn't been able to use the PS4 because I'm always on it.

So I say, "No, you enjoy your game."

I desperately want to play Destiny.

I think my whole 6 hours of "Last of Us" time is a small price to pay for your weeks of "Watch Dogs" and "Destiny" obsessions. :p


Plus, I could totally tell. You kept doing these little sighs behind me. heh.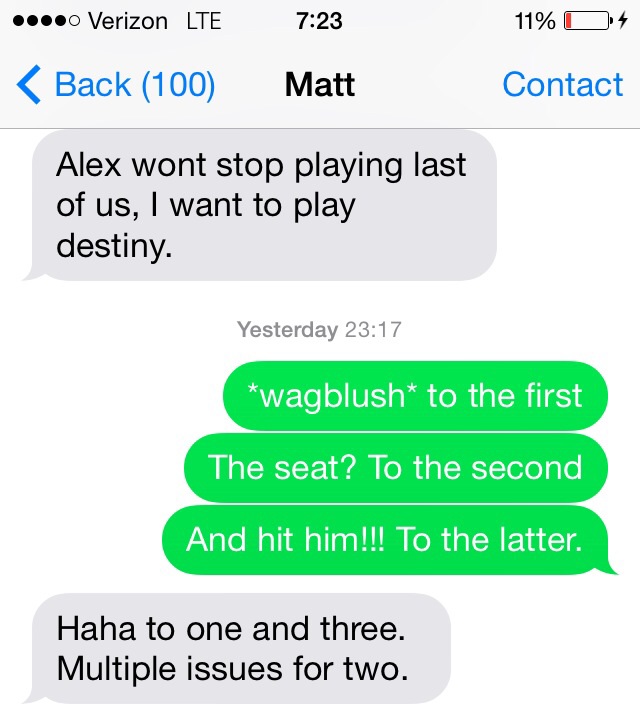 [video]
People think it's fun to watch their baloons float off, but it's gonna end up in the ocean choking some poor dolphin.
Sep 18
@racheleklein and her children are making @kerfuffletime a better place.
Seems legit.

Did you swipe right though?
Of course. I want to be matched with a golden retriever. I had no paws about it.
Sep 17
Seems legit.
Late nights at @Buildium are better in the winter.